Tired of buying new tools every couple of years?
Posted on June 2, 2017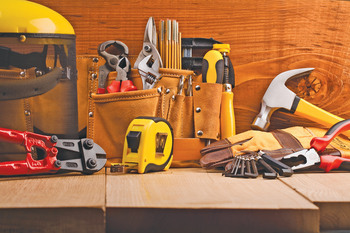 A great tool storage option for hand tools are pegboards. They allow you to see all of your tools at once and they utilize normally empty wall space. Toolboxes or tool bags are another great option especially for portability. Hang your garden tools so that they don't rest on the floor of your garage or shed. Power tools can be stored and protected by being placed in its original packaging. No matter how your tools are stored, make sure that they are stored in a dry location. Surface rust can form on your tools from the moisture in the air prematurely. Consider investing in a dehumidifier to keep the humidity levels down.
Always clean your tools after every use. Hand and garden tools can be easily cleaned with soap and water if they're dirty or wiped down with a rag. Be sure to dry them off very well and apply a coat of oil afterward. A light coating of WD-40 works, and then wipe with a clean rag. Power tools take some extra time to clean. Make sure that the tool is turned off and unplugged. Wipe off any dust that may be on the tool, then give it a thorough wipe down. Finally, lubricate any moving parts with machine oil or check the manual for any better recommendations. Don't forget about toolboxes and bags! Every once in awhile, empty out your toolbox and wipe it down. A quick machine wash will be enough to clean non-leather bags.
Inspect and make any necessary repairs/maintenance before and after using your tools. You want to be sure that you'll be safe while using them time and again. Be on the look out for: loose, cracked or splintered handles on garden tools; mushroomed heads on tools like chisels; corrosion or rust; poor starting or cracked housing on power tools; frayed insulation or exposed wires. Please note that some repairs have to be made by a professional.
Stop in today at your local Norbys location for great selections on DeWalt tools and more! We also stock items to help you keep your tools organized, dry and healthy.